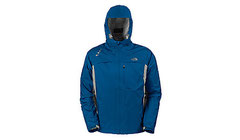 The North Face Trajectory Jacket is my newest acquisition This only 195 grams running jacket is superb for high output activities such as going out for a 5-mile run. The Trajectory Hybrid features soft woven breathable fabric on the back and under arm allowing to vent out all the moisture keeping me cooler during your activity. All other parts of the Trajectory Hybrid jacket is made of waterproof fabric to keep me dry during times of precipitation. Also usefull on those damp and misty days while trekking with that heavy pack.
Training still going strong; Aiming for that intemediate goal the 20 K of Brussels. My target is to finish under 1:30.
If the weather holds this weekend I will be heading back to the Belgian rocks. First time out this season to climb some routes at the Belgian Commando Training Centre in Marche Les Dames.
At Everest teams still coming to Kathmandu and trekking through the Khumbu towards Everest Base Camp. Climb on