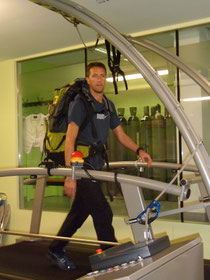 Today I did my last training in the Hypoxiaroom at the Topsport ABC Leuven. Thank you Stefan and Jonas for the support and advice, it was a pleasure working with you.  I'm really happy that I could do a part of my preparation here. I felt I grew stronger with each session,  working out on the threadmill gradually building up altitude, with an oxygen saturation of 70-75%.  This should help me acclimatize quicker then the other lowlanders. If we can not go to the mountains then we bring the mountain to us. 
Tomorow I'll pack my bags and in the afternoon it will be bey bey Belgium, Nepal here I come. 
I will try whenever I can adding somenthing to the blog. It will possible during the  first week but then internet no longer exists.
Anyhow I have put a link to the blog of Arnold Coster so the whole climb can be followed day by day.
So next entry will be from Katmandu. I'll see you all soon and Climb on!!!!