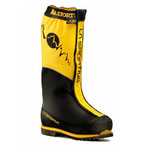 Last saturday I took the Thalys to Paris for one reason; to shop at "Au vieux Campeur" and of course while I was there admire Paris. Shopping at le campeur is fun. The concept is nice. It's not a one big shop but a lot of small specialized shops scattered over the Latin Quarter.  Everey shop is hosted by vey knowledgable, helpfull  and friendly staff.
My biggest buy that day were my expedition boots and of course I bought the La Sportiva Olympus Mons Evo.  I tried also the Millet and Asolo boots but the La Sportiva for me was by far the best. They sit like a Rolls Royce.  I am really really pleased.
Meanwhile on Everest team have been busy and the First summits have been reported.  In the upcoming week during the traditional weather window more summits are to be expected. Climb on guys.