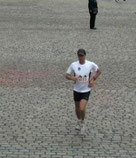 Sunday I ran the 20 km through Brussels. It was my first time I participated but not the first time I ran the distance. I did already several 1/2 marathons before. The difference was that now I did not train specifically for this race. I did this one for my collegues who were 1 man short the make a 5 man team due to injury of one teammember. It's a fun race, well organised buthonestly I underestimated the course. It's not flat at all. The course has a few long climbs. But all in all I did well. I never went in the red and maintained thoughout the race the same pace of 4:45/km and finishing in 1:35:00 being 1755 of the veterans.
Congratz also to my teammates they all ran a great race. Check out our resuts on http://www.20km.be/  under the EATC team.
Meanwhile on Everest peace returned. Everst season id officially over. On the south side the ice doctors removed the ladders from the Khumbu glaciers and all teams returned home. 
Next stop the Karakoram season in Pakistan.