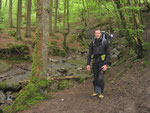 The Challenge Gailly was again a hard nut to crack. It's one of the hardest races. Not only the terrain (level difference 130m) makes this race so hard but also the team challenge makes you do that extra. You don't want to let the team down. Evert did great on the 8,6 km course.He clocked 33 min. My time was a little more 38 min. I wanted to do it in 35 min but I lost to much time in the first half of the race which I couldn't make up in the second half.  I had the race completely badly broken. A misjudgement. Next year better.
The day after a slight muscle ache but an endurance run should get that out of my system. During my training I watched others athletes do their thing. A Bike race was held in my village. They go awfully fast, respect.
Today family time. Doing things with the family is a musy and if we can combine this with training even better. So I put all my gear on and in my new bagpack  and off to the Ninglingspo. It's a very small confluence of the Ambleve not far from Remouchamps. This small river carved out a beautifull valley end ideally to walk to scramble and even when the weather is hot to go down the natural waterslides. But for me this this an ideal trainingground where I can hike uphill with my have pack.  And my new rugsack sits fantastic.!!!